PROFESSIONAL TESTIMONY
(FAH-13C BIRCH Folding Art Horse® with Horseshoes™)
I love the folding art horse. It's beautiful! The craftsmanship is good and the build is sturdy. Just like it's advertised, I really like how small/light and versatile it is. Unlike the chunky big ones I'm used to. Long story short, I made a great investment!
Thank you,
Gretel Ng, Artist - Vancouver, British Columbia, Canada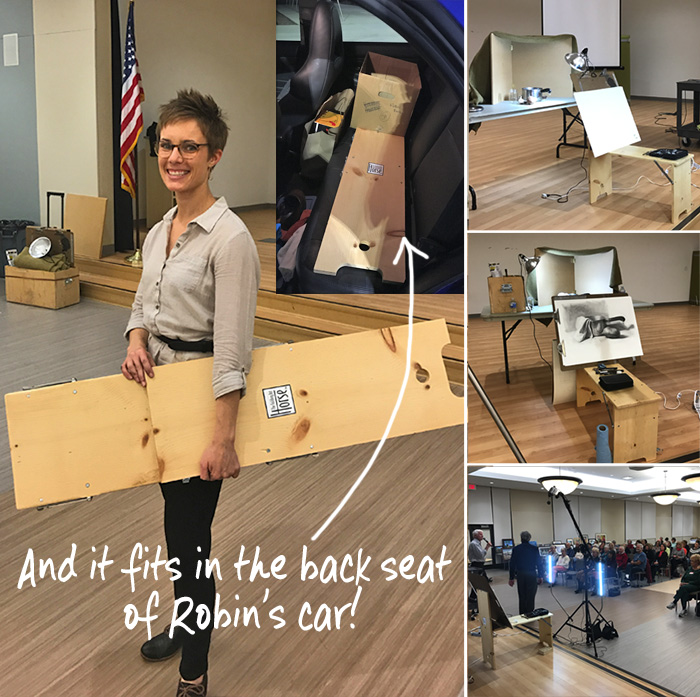 photos by Daniel Kee
PROFESSIONAL TESTIMONY
After years of improvised setups, dragging heavy institutional horses across parking lots and down long hallways, and building my own equipment, enter The Folding Art Horse! What an upgrade. I elected to purchase two, as I often teach individuals at my studio: one birch (for sturdiness) and one pine (for lugging around). I'm delighted with this 12 pound folding bit of masterful engineering. Sturdy, light, efficient, and pleasing to the eye. After using Eric's horses at the school where I teach, I felt totally confident debuting my trusty new steed at a drawing demonstration for a large audience the Huntington Art League, where I promptly received many inquiries as to its origin; many people recognize the value (and rarity) of a portable and well-built horse.
Despite being a standard size, the horse fits easily in the back seat of my small Subaru to travel to such events, or occasionally to the home of a student. I look forward to taking it on plein air trips, where it will replace my easel for drawing. Both horses now live in a slim, unused space next to some cabinets in my studio, where I can grab and unfold them anytime I feel like sketching.
Robin Smith, Artist/Instructor (find Robin and her student's work on Instagram)
Laguna Beach, CA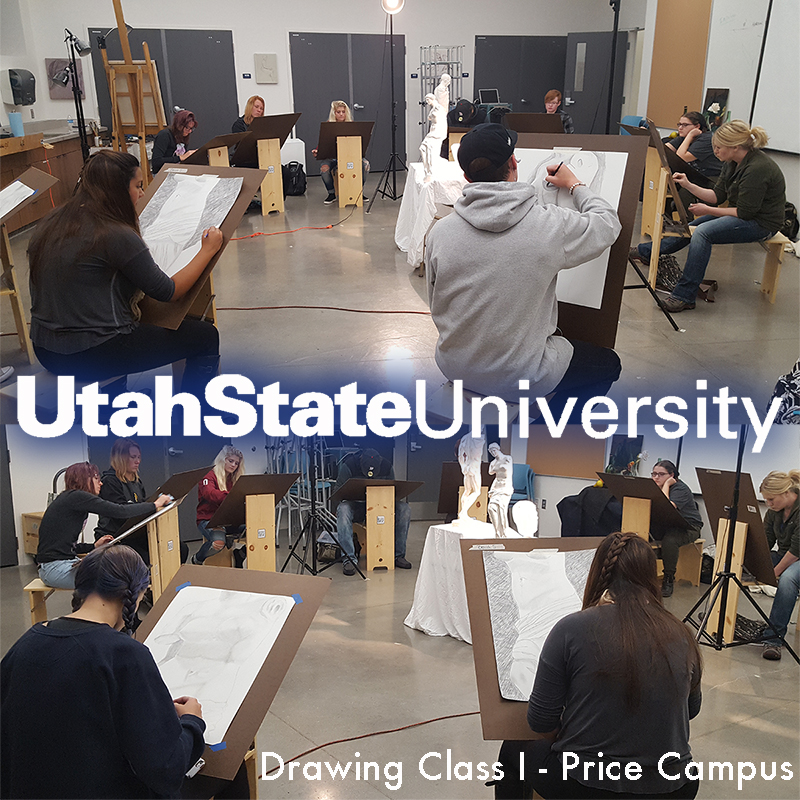 September 22, 2016
Hi Eric,

I meant to send you a few photos last semester. I am attaching a few above.

They've been working great. Love em!

Noel

Noel A. Carmack
Associate Professor of Art, Drawing & Painting
Department of Art & Design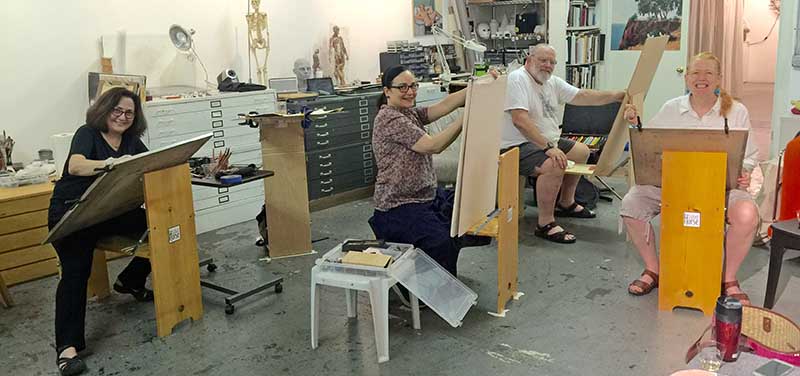 PROFESSIONAL TESTIMONY
"These drawing horses have been great for our weekily drawing group held in my LA studio.They are light and sturdy. Each artist can bring their own drawing horse to the group and quickly set up for the session. And, because they fold flat, I can easily store them in the painting racks for the artists without taking up to much precious space. We each brought a horse three years ago ( six in total ) and all of them are still holding up beautifully."

Ada Pullini Brown, Los Angeles, CA
Professional Artist, Director ArTravel, LLC
and Associate Professor of Painting & Drawing
Rio Hondo College
ARTIST'S TESTIMONY
"I've been wanting an art horse for 10 years. It's essential for how I like to draw. Finding the Folding Art Horse® is a game changer! I'm planning new hikes and adventures with it."
- Eugene Negri, Artist, Culver City, CA
STUDENT TESTIMONY
Statement from Sydney Bernstein, a student of Brett Reif, associate professor and director, School of the Foundation Year, Kansas City Art Institute, after a week long test of the Folding Art Horse® (birch model).

"The Folding Art Horse was great to use in and out of the studio. It is light and sturdy. I was able to take the drawing horse outside and draw comfortably. When I used it in the studio the set up was fast and I was able to prepare for class quickly. It folds flat so it was easy to store it without taking up much space. It seemed very durable and I think it would be a good investment for anyone who wanted a high-quality, portable drawing horse."
—Sydney Bernstein
PROFESSIONAL
Artist and Educator Tony Pro (@tonypro_fine_art) of San Antonio Texas demonstrates the ease of use of our model FAH-14C Birch "Long Horse™" Folding Art Horse®
- Thanks for sending us the video Tony!
Please check out our facebook page for more images and uses!